Chamber Chat: nov + dec 2020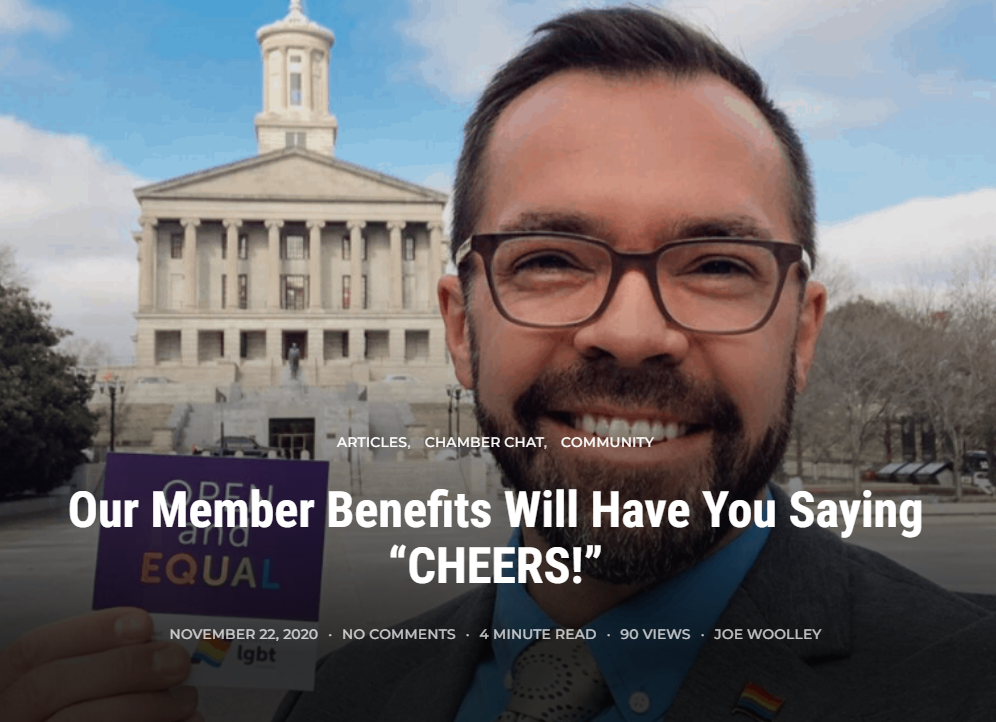 Our Member Benefits Will Have You Saying "CHEERS!"
By Joe Woolley | Images courtesy Nashville LGBT Chamber
The Nashville LGBT Chamber continues advocating, educating, and connecting for our members, the LGBT+ community and Nashville as a whole in the uncertain business climate created by COVID-19. We know every business and person, from our corporate members down to our small businesses and gig-workers, to our networking members and followers, all have been affected and are hurting more and more as the pandemic wears on. We want you to know we're here for YOU.
Our membership and programming remains open to everyone during these times. Please join us at any of our events and sign up to get the information we can connect you to. Take a look at some of the things we've been working on below. Thanks to Focus for letting us highlight our work and our members!
Be a Member and Find our Members
We've proudly added several new businesses and individuals to our membership, even during the pandemic. A great way to support the LGBT+ community during a difficult time is to frequent chamber member businesses. A full list of members and certified LGBT-owned businesses can be found on our website directory. Also, look for our OPEN and EQUAL membership sticker on windows and next to cash registers when you're out shopping.
In honor of the theme for this month's issue, we're celebrating our members who make you want to say "CHEERS"!
Diskin Cider – Nashville's first and only craft cidery. We're proud to partner with Diskin throughout the year at drag brunches and special release events for ciders like Daydream that benefit the chamber.
B&B Beverage Management – Food & beverage management company comprised of hospitality solutions for weddings, tailgates, festivals and sporting events. B&B did a live cocktail demonstration at our August PM Brewing Up Business!
Tito's Vodka and Jeptha Creed Distillery – These businesses sponsor several events each year including TASTE Nashville and Pride in Local Music!
Restaurants and Bars – Share a toast with any of these excellent members!
If your business fits this category and you're not listed, please consider joining our chamber and taking advantage of membership perks. We want to help you promote and grow your business! If you're interested in joining the chamber, visit our website at nashvilleLGBTchamber.org to learn more about membership levels and benefits.
Stopping the spread and keeping the virus numbers down
New cases are rising and we need to stop this surge so we can protect our economy. Please remember — Masks. Stay apart. Wash hands. And – get a flu shot. Thank you for being part of the solution. We will beat this virus.
NashvilleHealth and community partners, including the chamber, launched #MaskForNash or #ÚselaPorNash, a community-wide effort to encourage citizens to care for our hometown by wearing a mask or cloth face covering when in public.
We're also a partner in the #MaskNowPartyLater campaign, a collective of event creators, vendors, teams, venues, athletes and artists who are rallying together to create change.
Help us have concerts and more again in Music City as soon as possible by wearing your mask and following CDC guidelines!
The chamber is a proud participant in and encourages members to be part of the Good to Go Program, a hospitality safety program created by the Nashville Convention & Visitors Corp to help businesses in every industry implement health and safety guidelines.
Website Resources to COVID-19
We're pleased to announce our new and improved website and member portal! These upgrades will help members and the community find information and communicate with each other. If you haven't visited our website in a while, check out the new features!
We created a COVID-19 resources page that shares news and information our members need to know. The page includes:
A webinar section is there to connect our members to the countless webinars our community partners are putting out.
Stay informed with news releases and information keeping you updated on news related to the coronavirus and the response to it.
Directories were created that highlights members that offer takeout, or members that have changed their business to offer their product in a new way.
Our Hot Deals section is full with specials to other members and the community on a number of items. Check them out and support our members that are open and equal! This information can be found on our social media as well (@nashlgbtcc).
The Rainbow Connection
We're excited to expand our virtual programming with the Rainbow Connection. Each month we offer two networking events, a member highlight session and an educational opportunity. This series helps our members and community stay connected and informed while we navigate the "new normal."
Network Connect is just that, our networking events for you to connect to others for business or personal needs. To complement our traditional PM Brewing Up Business, we now offer additional morning networking opportunities, AM Brewing Up Business. These events include a short program of announcements from our chamber's staff and then small group networking.
Member Connect gives an in-depth highlight of one of our corporate members and one of our small business members. There is a Q&A session and members have the opportunity to talk about what they're working on, questions or issues they need help with or anything else they want to address.
Classroom Connect is designed to help LGBT+ and allied business owners expand their entrepreneurial skillset with educational webinars that connect participants to trusted experts. The Classroom Connect Series is made possible thanks to HCA Healthcare/TriStar Health, who joined as the title sponsor of the Classroom Connect Series. Click here for our 2020/2021 schedule.
Our virtual programs will continue even after the crisis subsides, in addition to resuming in-person events, such as advocating against discrimination at the state capitol, rainbow ribbon-cuttings and events. We can't wait to see people in person! If you need assistance or are interested in learning more about what we do, we'd love to hear from you. Visit our website for more details on these programs.