Network Connect May: PM Brewing Up Business
Thursday, May 20, 2021 (5:30 PM - 6:30 PM) (CDT)
Description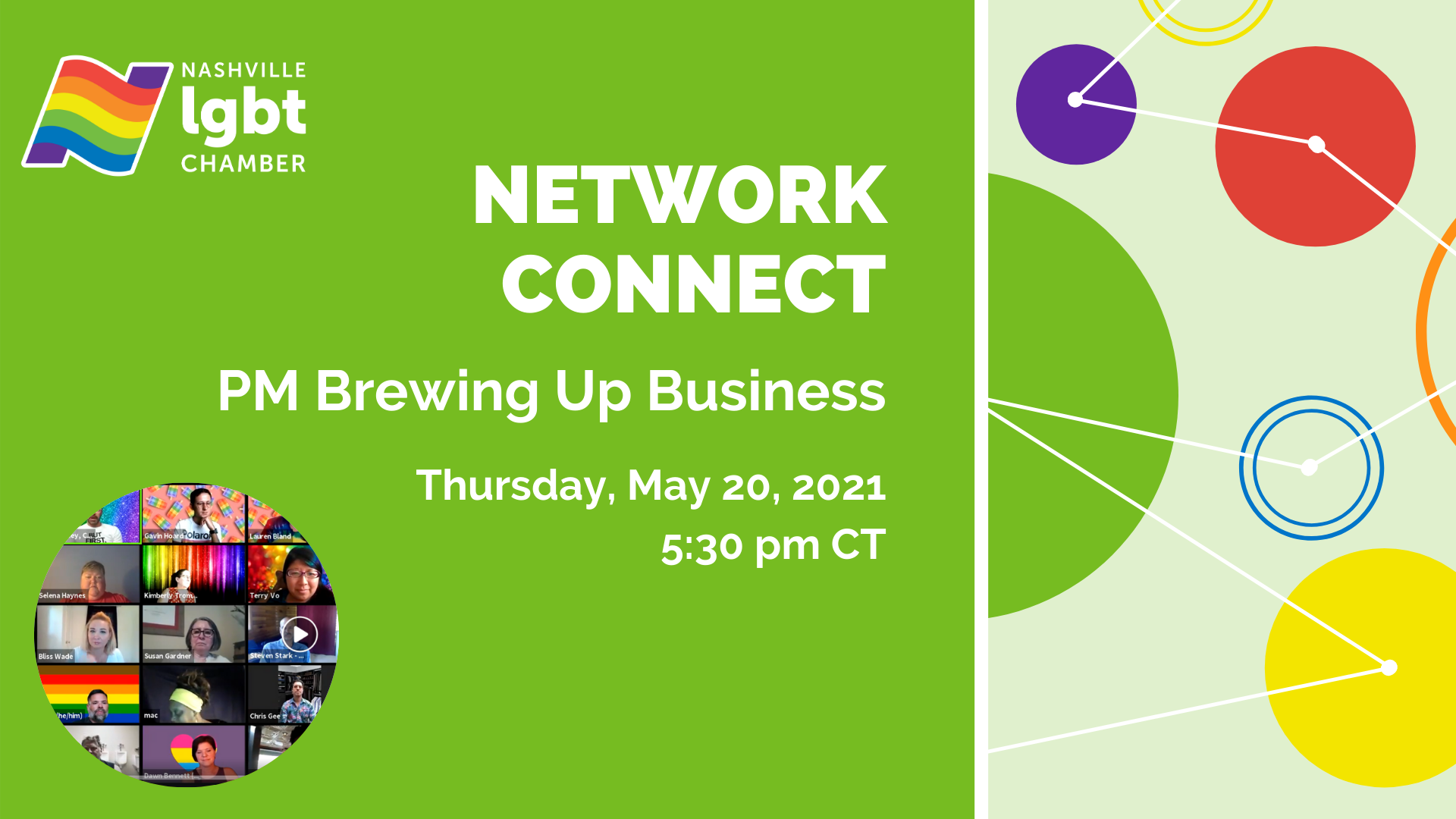 Please join us on Thursday, May 20th for our virtual PM Brewing Up Business from 5:30 pm - 6:30 pm. This networking event will be held virtually on Airmeet.
Agenda:
Welcome from President, Steph Ballou
Chamber Announcements from CEO, Joe Woolley
Updates from Membership Manager, Lauren Bland
Break into small groups to connect and network with Chamber and community members.
We can't wait to see you! Register today!
---

For this event, we will be using Airmeet. We think you will really like the new look and features! This platform is best accessed on Google Chrome or Microsoft Edge on a laptop or desktop computer. Dial-in by phone is NOT an option. Read the instructions below or view the attached document with step-by-step instructions and screenshots to help you access and navigate Airmeet. Please allow plenty of time to get logged in.
Need help? If you have any trouble accessing the event, please contact Lauren Bland at 615-507-5185 or membership@nashvillelgbtchamber.org.
Event Details
Thursday, May 20, 2021

5:30 pm - 6:30 pm CT

Sessions

Networking (20 minutes)

Chamber Announcements (15 minutes)

Networking (25 minutes)
How to login to event:
Click on the event link

Click on the "Enter Airmeet" button

You will see several options to log in, through LinkedIn, Google, Facebook, Twitter, Email or as a Guest

If you log in as a Guest, you will need to enter a few details so that other attendees can identify you including Name, Title, Organization, City, and Country.

Review the details and "Enter Airmeet"

You will be taken to a microphone and camera check to ensure those are working properly

Once you've tested your equipment, click "Enter Venue"
Once you enter the venue:
When you are connected to the Airmeet, you will enter the Chamber Networking Cafe. You will listen to short announcements from the Chamber and then start networking.

Join a roundtable by clicking on a seat, switch between tables or meet one-on-one...we've got you covered however you like to network!

When the program is about to begin, a 10-second countdown will appear at the bottom of your screen. The speakers will appear onscreen and the program will begin. At that time, the networking function is disabled, you will automatically be muted and your video will not be visible.
During the program:
In the black box on the right-hand side of your screen, you can view attendees, chat with everyone, or directly to one individual.

Please enter your contact information in the chatbox.
Images
Thursday, May 20, 2021 (5:30 PM - 6:30 PM) (CDT)
Categories
Official Chamber Event
Networking
Network Connect