Pride in Local Music: Sponsorship
Wednesday, June 30, 2021 (6:00 PM - 8:00 PM) (CDT)
Description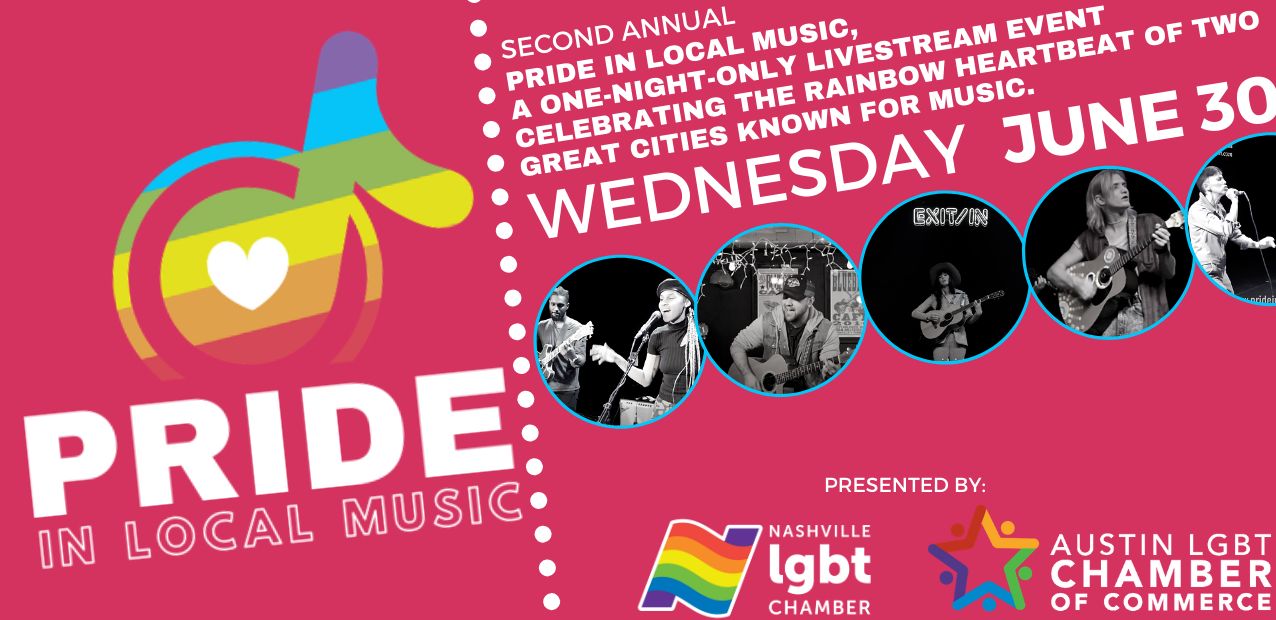 Join us as we close out PRIDE MONTH with Pride in Local Music!
The Austin and Nashville LGBT Chambers of Commerce are joining forces to bring you the second annual "Pride in Local Music", a one-night-only livestream event celebrating music, the rainbow heartbeat of two great cities known for music.
June 30th at 6:00 PM CST
Online: Website, Facebook, Instagram, and YouTube
In-person viewing: Austin-Oil Can Harries and Rain on 4th
Five musicians/bands from each music-based city performing in iconic local music venues! Join us and just know, local celebrities will make this an event like no other! Even though there may not be parades this year, you can still show your support in an intentional way, by supporting local LGBT artists on a national stage at the Pride in Local Music live streaming event.
Sponsorship Opportunities
Title Sponsor $20,000

Exclusive "Presented By" for event
Website main landing pages and sponsorship page
2-30 second video spots
Customized social graphics
Placement on-screen during the virtual event
Mention in all event-related materials
Stage Sponsor $3,500 per stage
Website sponsorship page
Customized social graphics
Branded on-screen as a stage sponsor
1 stage sponsor per location, 6 total locations
General Sponsor $1,500
General sponsor- 3rd tier placement
Logo included on the following

Website sponsorship page
Placement on-screen during the virtual event
Wednesday, June 30, 2021 (6:00 PM - 8:00 PM) (CDT)
Categories
Official Chamber Event
Community
Arts & Culture