Description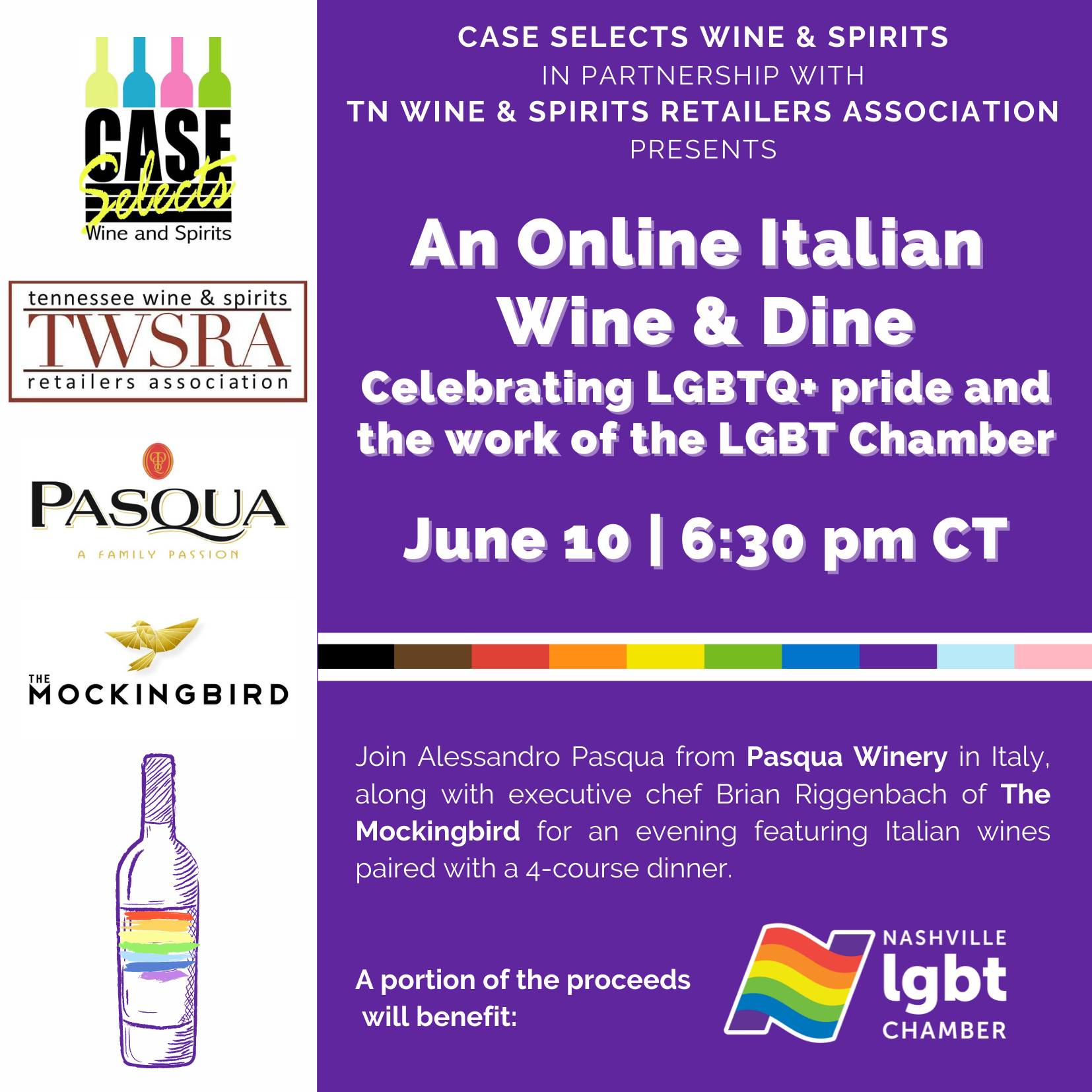 Case Selects Wine & Spirits in partnership with TN Wine & Spirits Retailers Association presents an online Italian Wine and Dine on Thursday, June 10th at 6:30 pm CT!
Join Alessandro Pasqua from Pasqua Winery in Italy, along with executive chef Brian Riggenbach of The Mockingbird for an evening featuring Italian wines paired with a 4-course dinner.
A portion of the proceeds with benefit the Nashville LGBT Chamber Foundation.
MENU
First Course: ANTIPASTO paired with Romeo and Juliet Passimento Rosso, IGT, Veneto IT
spicy soppressata, fresh mozzarella, marinated olives, grilled artichokes, pimento peppers, pepperoncini, paprika marinated mushroom, giardiniera
(Vegetarian version: sans soppressata)
Second Course: EGGPLANT CAPONATA paired with Pasqua 11 Minutes Rose, IGT 2019
lavash crispy flatbread, agrodolce currants
Third Course: TAGLIATELLE BOLOGNESE paired with Pasqua Sangiovese, IGT 2018, Puglia IT
black hawk farms beef, parmigiano, Focaccia, grape, rosemary
(Vegetarian version: tagliatelle, tomato vodka sauce)
Fourth Course: OLIVE OIL CAKE paired with Romeo & Juliet Passimento Rosso, IGT, Valpolicella IT
strawberry-rhubarb compote, candied ginger, milk crumbs