Nashville Transgender Day of Rememberance
Tuesday, November 16, 2021 (6:00 PM - 7:00 PM) (CST)
Description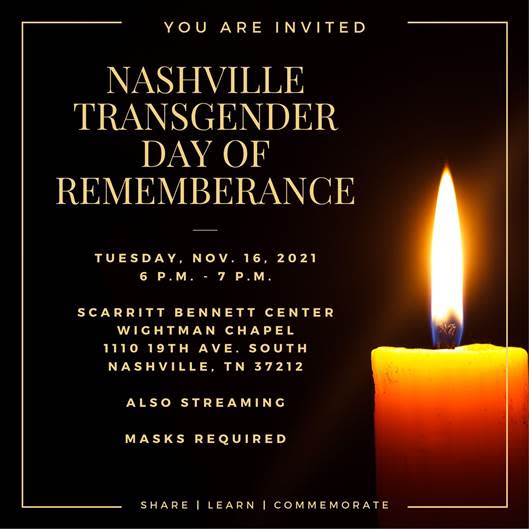 What: Nashville Transgender Day of Remembrance
When: Tuesday, November 16th, 6 pm - 7 pm
Where: Scarritt Bennett Chapel, Wightman Chapel, 1110 19th Ave. South
Since 1999, International Transgender Day of Remembrance has occurred annually on Nov. 20 as a day to memorialize those who have been killed as a result of anti-transgender violence and transphobia. TDOR brings attention to the continued violence endured by the transgender community and its resilience through difficult and demeaning times. This special day also allows for the transgender leaders of Nashville to come together and share space with their community and loved ones.
This year's service for the Nashville community will take place on Tuesday, Nov. 16, from 6 to 7 p.m. at Scarritt Bennett Chapel, as well as streaming at https://youtu.be/Y2ngMIBiLZM.
The event is hosted by Vanderbilt's Office of LGBTQI Life in collaboration with local trans activists and community members. The event is open to all.
Those who would like to attend in person are encouraged to arrive a bit early, as space will be limited. Masks will be *required* for all attendees. Unfortunately, due to COVID precautions, there will not be a reception following the ceremony this year. Although we regret not being able to host the reception after, we do hope that the opportunity for many to gather for an in-person service this year offers some comfort.
Speakers include:
Dahron Johnson
Marissa Richmond
Students from Glissen
Ray Holloman
Shawn Reilly
Mina Shedd
Simba Woodard
Thank you from the Office of LGBTQI Life at Vanderbilt and transgender leaders from the Nashville community. For more information, contact Linzie Treadway at linzie.treadway@vanderbilt.edu.
For more information: https://events.vanderbilt.edu/event/40292-1?fbclid=IwAR0azfy1CJ7rAIB1u-7HI5jt--rXIvi-A1rbaN8GlRQGm5OGWH_vfhCR7XM
Scarritt Bennett Chapel



Nashville

,

TN

37212



Tuesday, November 16, 2021 (6:00 PM - 7:00 PM) (CST)