Election Day 2020 Wrap-Up
Where we stand after last nights election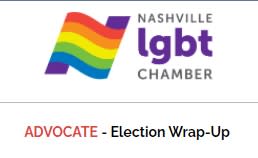 Members and friends,

We wanted to update you on the political lay of the land and what we could be facing after last night's elections.

Property Tax Ballot Referendum-
Before the polls even closed we had major news for Nashville and the future of the city when a judge ruled that it can not go on the ballot. We were very glad to hear this as we were part of a large coalition that saw the damage that this could cause the city and its future. There may be an appeal and another try at the referendum, we will keep you updated.

Nationally-
We still do not have an answer and we wait and watch with the rest of you to see the outcome for the Presidency. We hope all votes are counted and we honor the results and have a peaceful transition of power.

Many members reached out worried about possible protests and violence in the streets, we know of some businesses that have or are planning to board up their windows or keep employees home. We have been in communication with the Mayor's Office and Metro Police and there are no actionable threats at this time and they are monitoring events closely. MNPD put out this statement. We will keep you updated if we hear any information that will keep you, your employees, and your businesses protected.

Rainbow Wave and History Made in Tennessee-
There was a "rainbow wave" of openly LGBTQ+ candidates splashed across the country, including five transgender candidates who have now made history with their successful runs. According to the LGBTQ Victory Fund, the number of openly transgender state legislators could more than double by the end of the week. Nearly 600 LGBTQ+ candidates could be found on Tuesday's ballot, with dozens winning their respective races. Notably, there were a historic number of wins among transgender identifying candidates and BIPOCs, helping to usher in what may be a new era of diversifying representation at all levels of government.

History was also made in Tennessee, two new state legislators made history with their wins by becoming the first openly LGBTQ politicians to serve in the Tennessee General Assembly. Until Tuesday night, Tennessee was one of just five states in the country to have never elected an openly LGBTQ person to the state legislature.

Democrat Torrey Harris and Republican Eddie Mannis won their elections and will now be Tennessee state representatives. Harris will represent a Memphis district and Mannis will cover a Knoxville district.

We can not stress enough how huge this is for the work we and many others do at the Legislature to keep Tennessee a welcoming and accepting place to live and work and stopping anti-LGBT legislation. Representation matters and having out elected officials looking their colleagues in the eyes as they legislate makes a difference.

We will need that representation as we prepare for the upcoming General Assembly starting in January. We are sure to see many, if not all, of the discriminatory anti-LGBT bills, return, and possibly new ones. We will need businesses and citizens to speak out to make sure we keep Tennessee "OPEN and EQUAL."

TN General Election Update-
Despite record-high voter turnout, Tennessee's political landscape stays almost exactly the same. Unsurprisingly, Donald Trump handily won the state and was called the winner within minutes of the polls closing. Tennessee will see a new US Senator and several new state legislators, but the makeup of the legislature at this time is a net gain of 1 seat for Democrats.

The Democrats picked up a hotly contested state Senate race in Davidson County with Oak Hill Mayor Heidi Campbell beating embattled incumbent physician Steve Dickerson. This could potentially have huge consequences in stopping discriminatory anti-LGBT legislation in the State Senate as Dickerson was chair of the Judiciary Committee and was often able to slow down or block bills there.

For a further breakdown of Tennessee results, you can see our member Schmidt Government Solutions' election update.

To close, we are a divided country and seem even further apart now than we were before Election Day. It saddens me that racism and discrimination were not defeated in an overwhelming way up and down the ballot. But this is the reality we find ourselves in and we are ready to continue to ADVOCATE for our members and the community on the mission and values on which we stand. Thank you for being a member and supporting the LGBT Chamber in this work.

With you,
Joe
Joe Woolley
he/him
CEO
Nashville LGBT Chamber of Commerce
Images