PAST WEBINAR: Adoption at the Holidays
From Miriam's Promise: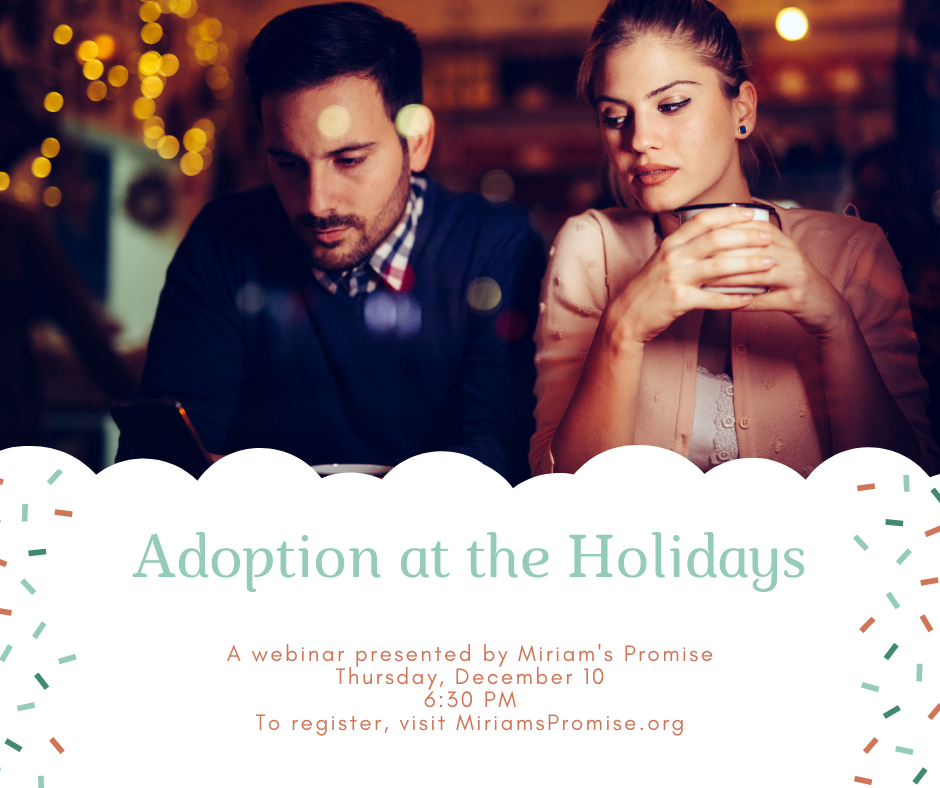 Adoption at the Holidays
Thursday, December 10th
6:30 pm - 7:30 pm
Register: https://db.miriamspromise.org/SAM/Fm/WebinarRegistrationForm_Edt.aspx?&evtid=2
For many, it is a time of joy and celebration. For others, it can cause a sense of dread and anxiety. When you combine the holidays and adoption, the results can be a mixed bag. What insensitive comment will family members make this year? How can I get my loved ones to understand open adoption?
Join us on December 10th from 6:30-7:30 for this virtual session that will help you develop ways to manage common family stresses at the holidays, with a specific emphasis on the sensitive nature of adoption with extended family.
Topics will include:
Planning for family gatherings and discussions about adoption
How to maneuver tough family conversations
Transracial adoption and extended family
Creating new traditions
This session will be presented and moderated by Charlsey Gibson, LMSW. Charlsey is a native Nashvillian who earned her BSW from Belmont University and her MSW from the University of Pennsylvania. She has spent almost a decade serving her birth city in a variety of settings including hospitals, courts, and mental health facilities. She is a mother to two gorgeous children.
Date: Thursday, December 10
Time: 6:30 pm-7:30 pm
Cost: No charge for families on the Miriam's Promise waiting families list. $25 for all others.