PAST WEBINAR: Gig Economy Law 101
From the Nashville Entrepreneur Center: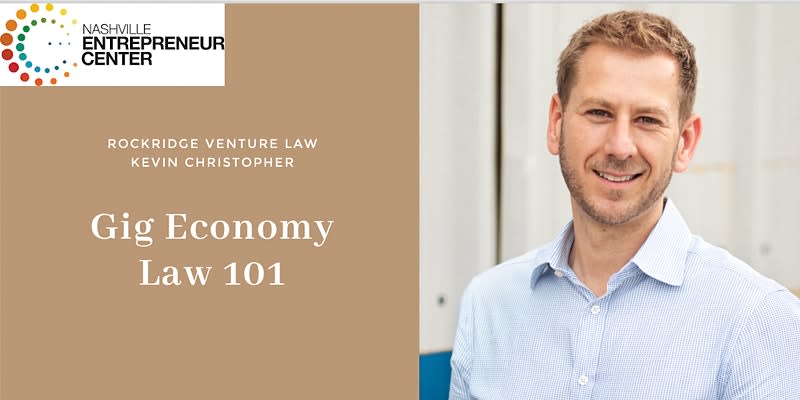 Gig Economy Law 101
Thursday, April 15, 2021
1:00 pm - 2:00 pm CT
Gig Economy Law 101
Join Rockridge Venture Law® attorney Kevin Christopher for an overview of the legal considerations that underpin our continuously-expanding gig economy.
From alternative forms of and approaches to raising capital, employee vs. independent contractor relations, the laws behind building your brand, and alternative business structures, you'll learn more about some of the key considerations for both gig economy employees and employers.
Kevin Christopher
Kevin Christopher is founder and principal of Rockridge Venture Law®. Kevin's practice areas include corporate, patent and trademark law. He is an entrepreneur, NIH RADx faculty member and Small Business Innovation Research (SBIR) reviewer. He mentors impactful and innovative founders through First Flight Venture Center, Oak Ridge National Lab Innovation Crossroads, and Tsai Center for Innovative Thinking at Yale. Kevin has been recognized as a SuperLawyer by Thomson Reuters and Top Business Leader by Conscious Company Magazine.
Rockridge Venture Law®
Rockridge Venture Law® was launched in 2017 to become the preeminent intellectual property and technology firm across the Appalachian Innovation Corridor. We now have offices in Chattanooga, Durham, and the Nashville area, and represent clients and interests globally. Our services include all aspects of intellectual property, litigation, M&A, privacy, technology transactions, and ventures. We're Building Today's Company for Tomorrow's Economy® by leading clients through the dizzying array of information controls, by helping them to develop and monetize proprietary assets, and by enabling their impactful products, programs, and principles. Our pioneering environmental and social impact programs attract top-notch legal talent and assure our clients of missional alignment with their corporate values. Learn more at rockridgelaw.com.