PAST WEBINAR: Speaker Series: Kathy Thomas
From the Nashville Entrepreneur Center: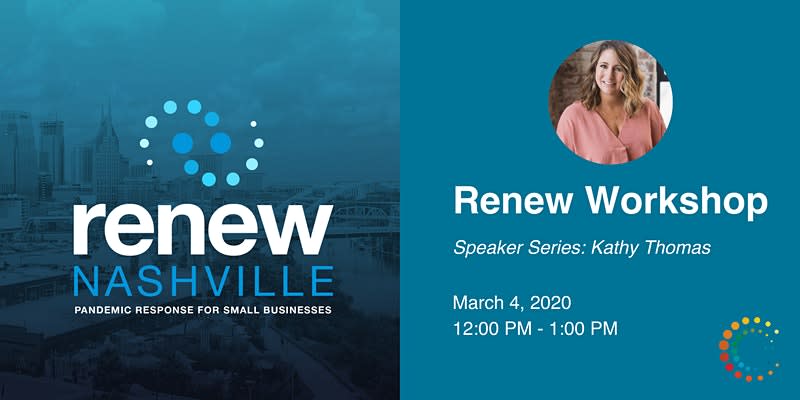 Renew Workshop
Speaker Series: Kathy Thomas
Thursday, March 4th
12:00 pm - 1:00 pm CST
Register: https://www.eventbrite.com/e/speaker-series-kathy-thomas-tickets-133125928235?aff=ebdsoporgprofile&utm_medium=email&_hsmi=113545380&_hsenc=p2ANqtz-_wDcyu8Jr3JwYwBvoLoXzDjRSmC1D36_cKWZdV-PtgrUVTIru7JcKMKzICMAogRVgwjgNU9F75EkuCfKIKUcDXpQHgSst55nT25JySBtnEYYeJbGw&utm_content=113545380&utm_source=hs_email
Owner/CEO of Kathy Thomas Photography & Collective615, Kathy never let lack of experience stop her from taking bold leaps to new career paths. Kathy got her feet wet in retail with GAP; this resulted in Kathy falling in love with talent management and fashion. Kathy worked her way up through the industry to become a high-level multi-store manager, operation director, and talent acquisition expert for brands Lucky Brand Jeans, INTERMIX, and Louis Vuitton. She then left that career path to start her own business as a completely self-taught photographer. Today, Kathy Thomas Photography is an internationally published brand, and Kathy travels the globe to photograph her clients and celebrities.
As a small business owner and a mom, Kathy realized early on that working from home made it difficult to establish a healthy work-life balance. After moving to Nashville and struggling to find the right coworking space for her business, Kathy decided to build her own. With Collective615, Kathy created the first coworking space for women in the state of Tennessee.
Kathy's best known as a connector of people. Kathy's dream of creating a space that provides female business owners a place to collaborate and feel inspired came to fruition when Collective615 opened its doors with 67 founding members in Feb. 2020. "